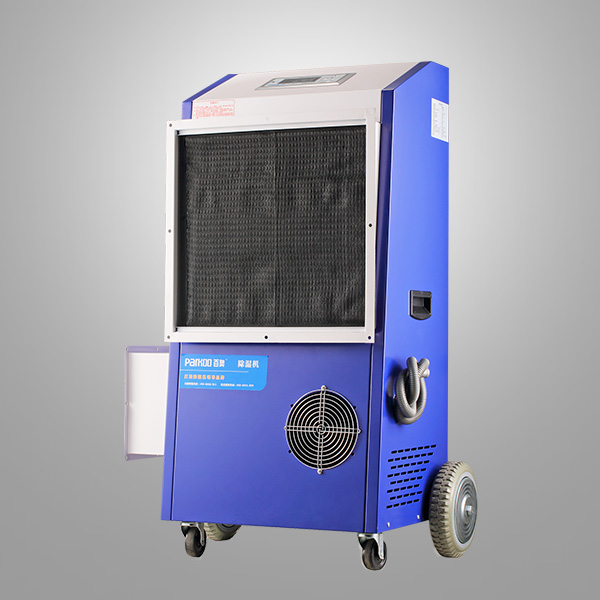 Drying Dehumidifier_CGF Series
Warehouse, in the quality system of an enterprise occupies an important position. It has always assumed the function of a transit station, for production and circulation of goods plays a very important role. The more convenient and efficient the turnover, the smoother the production and circulation, the faster the return of funds. Warehouse is the gathering and dispersing place of materials, so how to protect and control the material is also directly related to a variety of loss and waste can be reduced to a minimum.
If the air humidity in the warehouse is too high, then whether it is raw materials or finished products will be affected by moisture, mold or oxidation corrosion. Food, pharmaceuticals, handicrafts, metal instruments, leather, cotton and other industries, each year because of humidity caused by mold and metal oxidation caused by rust and corrosion of the loss can be seen everywhere, to the warehouse inventory time will find many products scrapped. In addition, most of the product storage packaging is corrugated cardboard boxes, easy to moisture; most of the shelves are steel products, moisture is easy to rust, these will undoubtedly bring direct economic losses to the enterprise.
Warehouse ventilation treatment is a common measure used by enterprises, but the role of moisture control and humidity control is very small, if you meet the return to the south or rainy season, it will only aggravate the degree of humidity.
Moisture control and dehumidification has been the attention of many industrial manufacturers. Warehouse humidity control, in fact, only need to configure the industrial dehumidifier, you can avoid the ravages of humid air.
PARKOO industrial dehumidifier adopts the principle of freezing dehumidification, intelligent temperature and humidity control, can efficiently remove humid air, so that storage items are not damaged by moisture. Warehouse managers can configure the corresponding specifications of the machine according to the size of the warehouse area, to easily solve the problem of warehouse humidity.